FIELD DAY IS JUNE 22-23rd 2013
I'm currently compiling a list of clubs or individual stations who are making plans for Field Day 2013.  If you want me to share your location and hours of operation (some clubs don't run full 24 hours, and/or shut down during the night and resume in the morning), please send an email to info@sanantoniohams.org with "Field Day 2013″ in the subject line to get my attention.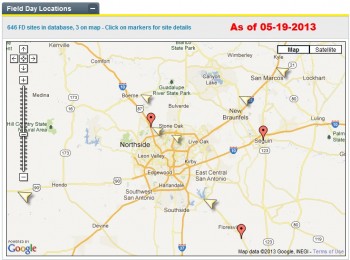 Please include any details you want shared, such as a talk-in frequency especially if you are on private property or a hard to find location.  Let us know if there are any admission fees (such as operating from a public or private park, etc.).  If you require RSVP, please provide the official contact info for that purpose.  If you are limiting the hours of operation, such as taking a recess during the middle of the night and resuming the next morning, let me know that also.  I know you don't just want folks to show up for meal time, especially if they aren't a member of your club.
Other than sifting thru the thousands of emails on my computer, I also visited the ARRL official site locator page to see what I could see.  I was very disappointed, but then reminded myself that we're still about a month away, so some clubs might not have registered their location yet.  As of the date of this article, there were only 646 registered FD sites in the USA.  Wow!
And then I looked for San Antonio / Central Texas area on the map, and said "double wow!"  I know of several clubs not shown on this map, as of today, who plan on conducting a FD event.  Click on the screen shot to the right for details.  The little red map parkers are those FD locations registered as of 05-19-2013 with ARRL.  The little yellow arrows are the locations that I'm aware of, where clubs are planning their event.
CLUBS known to be participating in Field Day in Central Texas include…