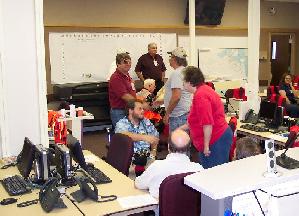 New Feature starting in 2008 -
The News Blog!
We've created a new section using WordPress software to allow us and other hams to post their news directly to this website.

Check out our new News Blog and let us know what you think! Blog authors wanted. Contact us via email if you want permission to post your own news stories here.
---
This page is where we post local Amateur News as we find out about things of general interest which have been happening in our community, or which have directly affected our local Amateur Community. We've also included the news highlights from ARRL's web site. And just like we're pulling the highlights from ARRL's web site, the news highlights are available to be pulled from this page for use on other radio club web sites. Contact the webmaster for info to obtain permission and instructions on how to accomplish this.
Check back frequently for updates. If you have something you would like to have included, feel free to send that to info@sanantoniohams.org Or better yet, sign up to become a contributor to the Blog yourself.
---

UPLOAD YOUR EVENT PHOTOS USING THIS FREE SERVICE - Use your web browser to visit www.CuteSendIt.com. Enter your email address and our address "info@sanantoniohams.org" as the recipient. Attach your files and send. If you have mulitple photos, you might ZIP them together into a single compressed file using WinZip, WinRAR, or similar program. Contact us if you have any problems. They have some limits, such as 100mb max size per sending, and the recipient has to pull down the file(s) within 3 days.